The Family Stone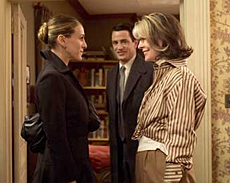 Thomas Bezucha
20th Century Fox 11/05 Feature Film
PG-13 - some sexual content including dialogue, drug references
"Human being" is more a verb than a noun. Each of us is unfinished, a work in progress, perhaps it would be most accurate to add the word 'yet' to all our assessments of ourselves and each other. (She) has not learned compassion… yet. I have not developed courage… yet. It changes everything... If life is process, all judgments are provisional. We can't judge something until it is finished. No one has won lost until the race is over.
——Rachel Naomi Remen, Kitchen Table Wisdom
In our contentious culture, it is often difficult to avoid the habit of evaluating everyone and everything; to avoid fitting people into arbitrary formulas we have constructed to order the world in our minds. Giving into this pitfall results in individuals being needlessly hurt or humiliated. This process is vividly depicted in The Family Stone, written and directed by Thomas Bezucha. His first film, Big Eden, was an unusual gay romantic drama emphasizing the point that community means accepting people just as they are — their gifts and beauty along with their flaws and inner pain. Some of the same comes through this family drama set in New England during the Christmas holidays.
Sybil Stone (Diane Keaton) and her husband Kelly (Craig T. Nelson) are preparing for the arrival of their eldest son Everett (Dermot Mulroney) and his new girlfriend Meredith Morton (Sarah Jessica Parker). Everett is the most conventional member of a family who pride themselves on being free-thinkers open to anything. But they are totally unprepared for Meredith — an uptight New York City career woman with a very rigid set of likes and dislikes. Amy Stone (Rachel McAdams), Everett's outspoken younger sister, has already met Meredith and has a very low opinion of her. Amy tells her family about Meredith's annoying nervous tic: loudly and repeatedly clearing her throat. Her other siblings, the pregnant Susannah (Elizabeth Reaser) and the deaf and gay Thad (Ty Giordano), refuse to pass judgment on Meredith until they meet her. The same goes for Thad's partner, Patrick (Brian White). The most free spirit in the Stone family is Ben (Luke Wilson), a film editor who lives in California and is about as laid-back as you can get.
The tension in the household is palpable as Everett introduces Meredith to his skeptical family. Although they are all proficient in sign language and have a loving respect for alternative lifestyles, they do not seem to have mastered the seasonal spirit of hospitality to strangers. Meredith upsets Amy when she takes over her room rather than agree to share a room with Everett. When the atmosphere towards her grows from cold to arctic, she decides to move out of the Stone house and instead stay at a local inn.
Convinced that Everett's family can't stand anything about her, Meredith calls her younger sister Julie (Claire Danes) and asks her to come for moral support. This proves to be a bad decision: the Stone family immediately fall in love with Julie, a relaxed and friendly woman who works at a foundation that gives grants to artists. Meredith digs herself into a hole when commenting on her view that gay couples should not have children. Even Everett is shocked by her words; the only one who comes to her rescue is Ben who seems to understand instinctively what it is like to be an outsider who just doesn't measure up.
This well-acted family drama is overflowing with rich and telling moments of genuine emotional vibrancy. Bezucha reveals the pleasure it gives individuals to judge others and take them down a notch or two. But he also salutes the value of picking people up and making them feel good. This Yuletide morality play is filled with comic reversals and surprises that open us up to the wisdom of the famous Rebbe Nachman of Breslov who said: "Be like God and don't look for people's shortcomings and weak points. You will then be at peace with everyone." What a fine way to incarnate the true Christmas spirit!